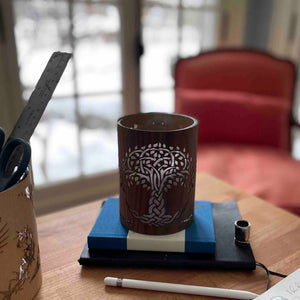 Enjoy the coziness the light of Lantern Cozies' Celtic-inspired candle holder brings. Your candle will glow warmly through the openwork pattern of the tree of life.    also included Additional celtic details at the sides and bottom of the lantern were added for balance.
People often ask what is the meaning behind the Celtic tree of life. In a nutshell it symbolizes eternal life and immortality which is why using this tree of life lantern as a memorial lantern is a lovely idea.  
By Lantern Cozies. A little magic everyday.
Size - Small - 4 x 5"