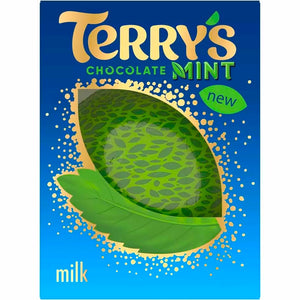 We hope you're sitting down, because this is a first. That's right…NEW Terry's Chocolate MINT.The moreishly minty sibling our orange Christmas classic has always wanted. Delicious milk chocolate, made with a natural mint flavour...Tap it, whack it and enjoy it!
The Terry's Chocolate story began in 1767 with the opening of a shop near Bootham Bar, York, selling lemon and orange candied peel. In 1823, Joseph Terry joined the company and using his specialist skills, developed new lines of chocolate, confectionery, candied peel and marmalade.Fast forward to 1932, the iconic Terry's Chocolate Orange was born, revolutionising the chocolate industry and becoming an immediate hit. Since then, we've never stopped innovating and continued to launch new formats and flavours to delight our loyal fans.
So what are you waiting for...tap it, unwrap it and enjoy it!
Made with a Natural Mint Flavour
Pack size: 145G