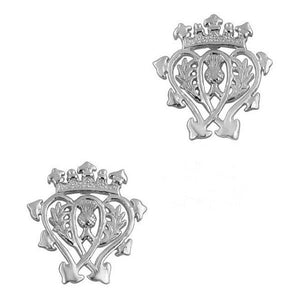 A highly attractive pair of Sterling Silver Stud Earrings with a design based on the unique Luckenbooth. The symbolic design consists of the interlocking hearts surmounted by the crown of Mary Queen of Scots, the Luckenbooth was traditionally exchanged between lovers. A beautiful story behind a stunning piece of jewellery.

Crafted entirely of 925 Sterling Silver.  

They will delight lovers of all things Scottish, and the unique and turbulent history of our small country. They will also make an ideal gift, and a lasting momento, for yourself or someone you love.