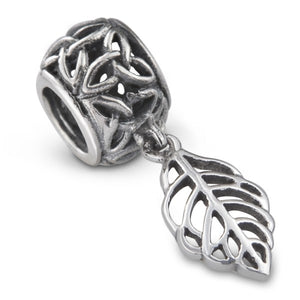 Crafted in the finest 925 Sterling Silver, our new Outlander Inspired Leaf Silver Bead Charm would grace any fans charm bracelet and also acts as a match to our Outlander Inspired Leaf Silver Pendant. The design consists of a delicate autumn leaf suspended from a bead decorated with traditional Highland knotwork.
This charm will delight lovers of Outlander and will make an ideal gift and lasting memento, for yourself or for someone you love.
This beautiful bead charm is from our new collection of Keepsake Bead Charms and measures 10.00 mm x 25.00 mm (approx).
They are a perfect fit for all popular charm bracelets and would make a wonderful addition to your charm collection!
All our Keepsake Bead Charms come in a delicate black charm box.