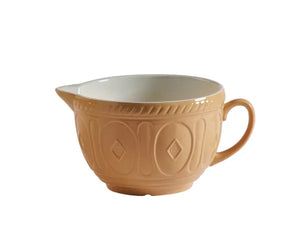 The Mason Cash Cane collection is an iconic British design, first developed in 1901.
Made from Chip resistant Stoneware, the batter bowl is the perfect solution for mixing batter or whisking eggs. Making it an essential item for the everyday baker.

The distinct patterned exterior is designed to help bakers grip the batter bowl, whilst the strong handle allows the bowl to remain sturdy and in place when mixing. The batter bowl also features a pouring lip which is ideal when poring ingredients into cake mixes.

The Batter bowl measures 13cm (height) x 19cm (width) x 25cm (depth), with a capacity of 1.9 litres. The batter bowl is dishwasher and freezer safe.

The traditional cane colour, with cream interior has been a classic for Mason Cash for centuries, with a high-gloss glaze providing a chip resistant finish.

Mason Cash was established in the heart of the English ceramic industry back in 1800 and has become world renowned for its innovative, classic kitchenware today.
Product Length (mm): 250
Product Width (mm): 190
Product Height (mm): 130