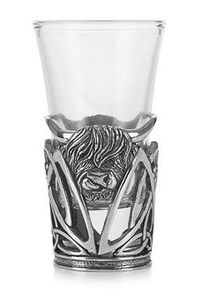 This specific design consists of a beautiful celtic design featuring a highland cow in the centre clinging to the shot glass. It makes a beautiful addition to any dinner party or gathering and will definitely get people talking!

When washing the Glass Holders, please only use warm soapy water- these items are not dishwasher safe and will result in damaged and dull pewter.

40 mm x 60 mm

Please note that one shot glass holder comes with one shot glass.
By AE Williams.