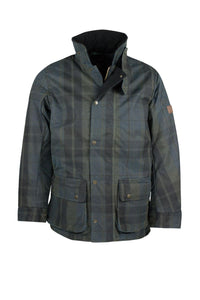 The Chelsea Wax Jacket is crafted from tartan waxed cotton and is available in four classic tartans. Lined with quality 100% cotton quilted fabric this jacket provides exceptional protection from the elements and bags of style.
Detachable throat tab

Moleskin trim

2 x large patch pockets

Adjustable cuffs

Side vents
Wax Care Instructions
An Oxford Blue wax product is regarded as one of the finest outdoor garments available today. We urge you to take notice of these care instructions, to ensure that you get many, many years of wear out of your purchase.
Due to the nature of a waxed cotton textile, it is not possible to clean it in the normal way i.e. washing in detergent or dry cleaning.
If you follow these useful tips, you can ensure that you get the maximum life and performance from your jacket.
If soiled - sponge down outer fabric with cold water. If needed, use a brush lightly to remove any dirt or grit.

Hang coat in a dry, non humid, ventilated place to dry off naturally.

Using Oxford Blue's wax dressing, rewax the following areas; Shoulder and neck seams, Back and sleeve seams, plus areas of abrasion (sleeve creases) and where the fabric looks dry.

Repeat the waxing treatment at least every twelve months.
It is very important that you NEVER do any of the following:
Never use hot water.

Never use detergent.

Never Dry clean.

Never starch or iron.

Never use artificial heat or naked flame to dry the garment. 

Never stitch through the outer fabric without re-proofing the area.
Made in Britain