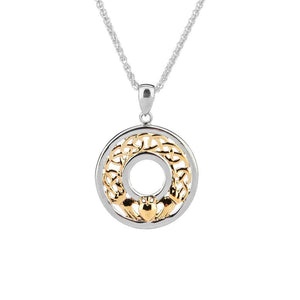 Forged in the 17th century, this Irish love token originated in a small village called Claddagh. The hands represent friendship, the heart love and the crown loyalty.
Materials: Sterling Silver and 10k Yellow Gold
Dimensions (width x height): 1" x 1 3/8"
Height is measured from the top of the bale to the bottom of the pendant.
Carry your love close to your heart.
Legend has it that the Claddagh jewelry was invented by a silversmith called Richard Joyce. Hailing from the fishing town of Claddagh, Joyce, unfortunately, found himself at the hands of pirates during a trip in the West Indies (current-day Caribbean).
The pirates kidnapped Joyce and sold him as a slave to a Moorish goldsmith in Algeria. As a slave, he created the Claddagh ring as a reminder of his home.
Luckily, King William III in 1698 got wind of the British and Irish captives in Algeria and demanded their release.
This is when Joyce returned to his beloved hometown and met his sweetheart. He married her shortly after with a Claddagh ring, creating a tradition that lives on to this day. 
Style PPX6475