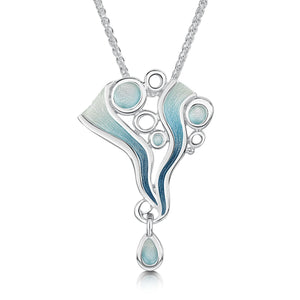 From the Artic Stream Collection by Sheila Fleet.
This Arctic Stream pendant necklace in sterling silver features an ice, rock and flowing water design, beautifully highlighted in Sheila's 'Arctic Blue' enamel, inspired by the Arctic. The piece is approximately 28mm x 44mm overall and hangs elegantly on a sterling silver wheat chain. A small enamelled droplet hangs from the bottom.
As glacial ice moves and changes, rocks of different shapes and sizes are carried with it, often coming to rest beside sparkling meltwater. Arctic Stream is inspired by this process, and by the shapes and colours of glacial ice, water and rock.