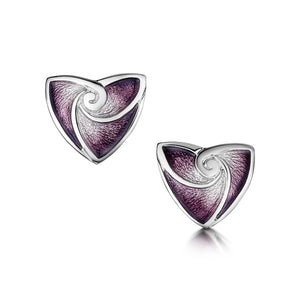 These Turning Tides Stud Earrings are available in enamel colourways that reflect Orkney's sea and sky. This design in sterling silver is hand-enamelled in 'Amethyst' in our workshop in Orkney.
Sheila's inspiration for her Turning Tides collection came from the ever-changing colours of the sea. In the evening, the sea turns and retreats, its water reflecting the dusky sky that subtly transforms from blue and grey to pink and purple.
Note: Any measurements provided are approximate due to each piece being hand-finished.
SKU:  EE0053