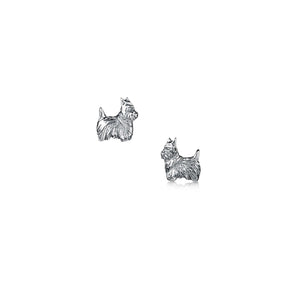 These Scottie Dog stud earrings, by Sheila Fleet, in sterling silver measure approximately 11mm by 12mm and are hand-finished in our Orkney workshop.
Originally known as the Aberdeen Terrier, the much-loved Scottish Terrier—or Scottie Dog—likely originated around the 17-18th century, developing through the years into the popular breed we know today. Following a customer request, Sheila's skilled designer and modelmaker carved a selection of Scottie Dog jewellery to form this collection. Available in silver, Scottie Dog pieces are hand-finished in Sheila's Orkney workshop.
Note: Any measurements provided are approximate due to each piece being hand-finished.
SKU:  E281