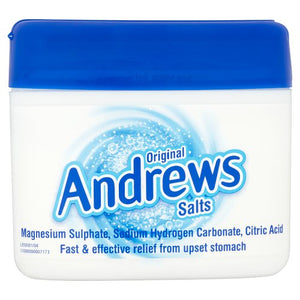 There's nothing better than Andrews Salts for an upset tummy!
It also relieves indigestion, excess acid, constipation, and symptoms of over-indulgence.
It's easy to take in water, has a slight citrus taste and as the British have known for years – it works!
Ingredients:
Effervescent Powder containing the active ingredients Sodium Hydrogen Carbonate 22.6% w/w, Citric Acid 19.5% w/w and Magnesium Sulphate 17.4% w/w, Also contains 2.1g or Sucrose per 5 ml spoonful.