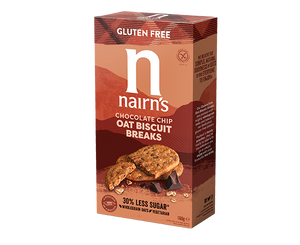 A guilty pleasure of many, who doesn't love a little bit of chocolate now and again?
Nairn's award winning Chocolate Chip Oat Biscuit Breaks are a great free from option when you're looking for a treat. They're so good, you'd never know they are gluten free!
They contain no artificial colours or flavours, are full of the goodness of wholegrain oats and contain just 45 calories per biscuit making them the perfect chocolatey treat. Nairn's tasty Oat Biscuit Breaks come in handy pouch packs making them easy to pop in your bag for a mid-morning or afternoon snack on the go. Or simply enjoy them as the perfect accompaniment to your favourite hot or cold drink at any time of day.