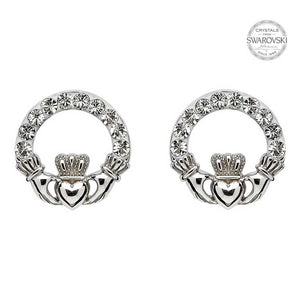 Description
These Claddagh Stud Earrings are elevated to a new level with the addition of dazzling Swarovski® crystals complimenting the traditional Claddagh symbol of two hands embracing a heart topped with a crown. 

History of the Claddagh
The Claddagh, with hands representing friendship, a heart to stand for love, and a crown signifying loyalty, denotes the essential components of a good relationship. The most widely accepted legend as to the origin of the symbol is from a story that shows how true love waits. It is said that Richard Joyce, who was captured at sea by Moorish pirates, crafted the ring for his one true love during his time as a slave. Upon his eventual release, he bestowed the ring as a gift to his love, and the two were married.