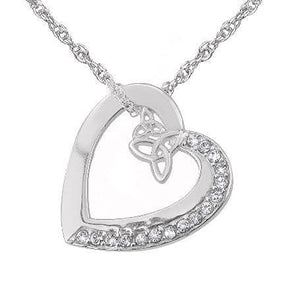 SWAROVSKI CRYSTAL 
This beautiful pendant is from the
 new
 Celtic Silver and
Swarovski Crystal
Jewellery collection by Hamilton & Young.
The Heart shaped pendant is a stunning Swarovski Swarovski crystals set into the Trinity Knot, a knot which the Celts believed to represent the past, present and future.
A timeless and elegant piece that will delight lovers of Swarovski and all things Celtic.
Crafted entirely of 925 sterling silver the pendant comes on a 16" chain, and is shipped to you direct from Scotland, complete in a quality black and gold jewellery presentation box.

It will make an ideal gift, and a lasting memento, for yourself or for someone you love.

The pendant measures : 15.0 mm x 20.0 mm