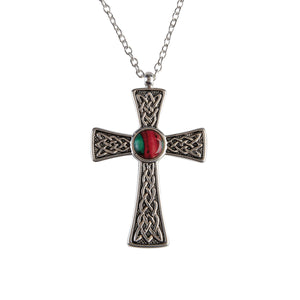 Celtic Cross Embossed Silver Plated Pendant.
Heathergems are uniquely Scottish and a beautiful reminder of our landscape. Due to the nature of the process, no two Heathergems are the same making it a very individual, personal gift. Supplied in a gift box with story card.
Handcrafted in Scotland.
Dimensions: 45 x 33 mm, Heathergem 8 x 8 mm
Chain: 20" silver plated
Product code: HP24
Please note that product may differ in colour from that shown in the picture.  For colour clarification please call the shop.